Clinical Hypnotherapy and
Reiki / Energy healing
/ Bowen therapy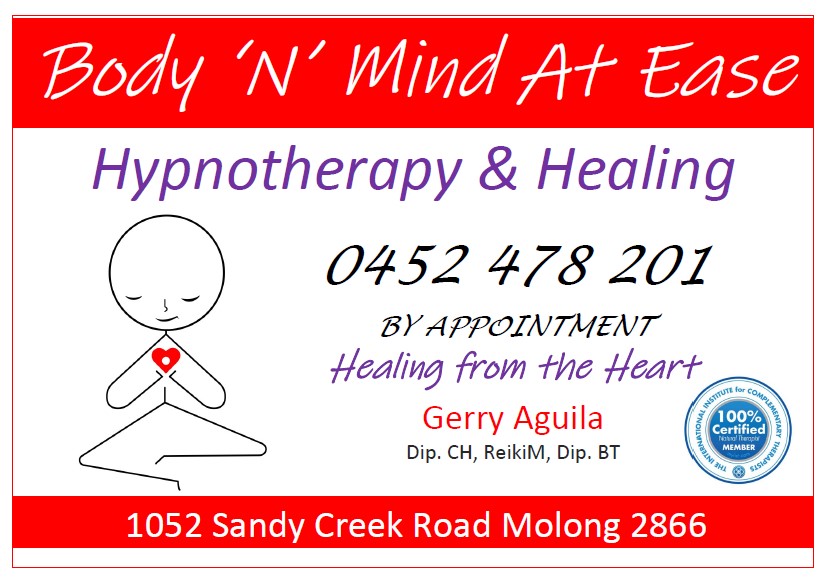 Working face to face and
Online and remotely
I am now offering in person appointments.
Hypnotherapy sessions are also available online and Reiki and other healing energies' sessions can also be done by distance (sometimes called remote healing).
Are You Living the Life You Deserve?
A life where the body and mind are at ease is our natural state and we deserve no less.
However this 'ease' is impacted by life experiences and our reactions to events that have occurred. These experiences and our adopted reactions are stored in our subconscious mind and impact on our behaviour and reactions as habitual responses and impact our thinking and expectations of what the future may bring.
Working together with clients to get to the heart of the matter is the goal at Body 'N' Mind At Ease. Once the underlying root cause is known healing can follow, restoring us to a place of ease for body and mind.
Hypnotherapy works on releasing these 'subconscious programmings' to allow us to make conscious choices and live a life at ease.
Reiki, Trauma Release Therapy and other energy work systems also help to release these programmings and replace stagnant and negative energies with positive healing energies.
Clinic Days
Open most days and some evenings. By appointment only.
Hypnotherapy
Hypnotherapy – Hypnosis describes the process of guiding someone into a trance – a deep state of relaxation where the client is disburdened of the conscious mind's control and therefore the subconscious mind (including memories, beliefs, coping strategies and desires) can be revealed and/or witnessed without judgement. Hypnotherapy is the application of hypnosis to support the overcoming of mental and physical conditions and blockages, through releasing or transforming aspects of the unconscious apparatus which no longer serve the client.
Reiki and other energy work modalities
Reiki – is a form of alternative therapy, developed in 1922, by Japanese Buddhist Mikao Usui. Reiki practitioners use a technique sometimes called palm healing or hands-on healing by which a "universal energy" is transferred through the palms of the practitioner to a patient in order to encourage healing and transformation.
Bowen Therapy
Bowen – Bowen Therapy is extremely gentle and can assist recovery from many conditions, from traumatic injury to chronic illness, depending upon each individual's capacity to heal.
Please check out what clients have said here.